The Mentor Project 
The Mentor Project is a 7-week collaborative arts program that matches adults who stutter – including SAY alumni – with small groups of kids to create 5-minute performance pieces of their choosing.  Anything from raps, songs, poems, dance pieces, magic shows, movie trailers, visual art pieces, the sky is the limit!. The Mentor Project ends with a showcase in a safe, appreciative space where participants can freely express themselves, with NO PRESSURE to perform.

Why Mentoring?  Working together allows for mutual inspiration, especially when it affords young people the opportunity to work with adults who stutter, who have triumphed over similar struggles. 
Registration is OPEN.
Program Schedule:
Fridays from 4:30 pm to 6:30 pm
Saturdays from 11:00 am to 1:00 pm
Saturdays from 2:00 pm to 4:0o pm
PROGRAMMING AND PERFORMANCE DATES
Program Starts: April 17th & 18th
Program Dates: Click Here
Show dates:
Saturday, June 20th – Show at 7pm (52nd Street Project)
Sunday, June 21st – Show at 3pm (52nd Street Project)
Confident Voices Programming and Performances are absolutely FREE!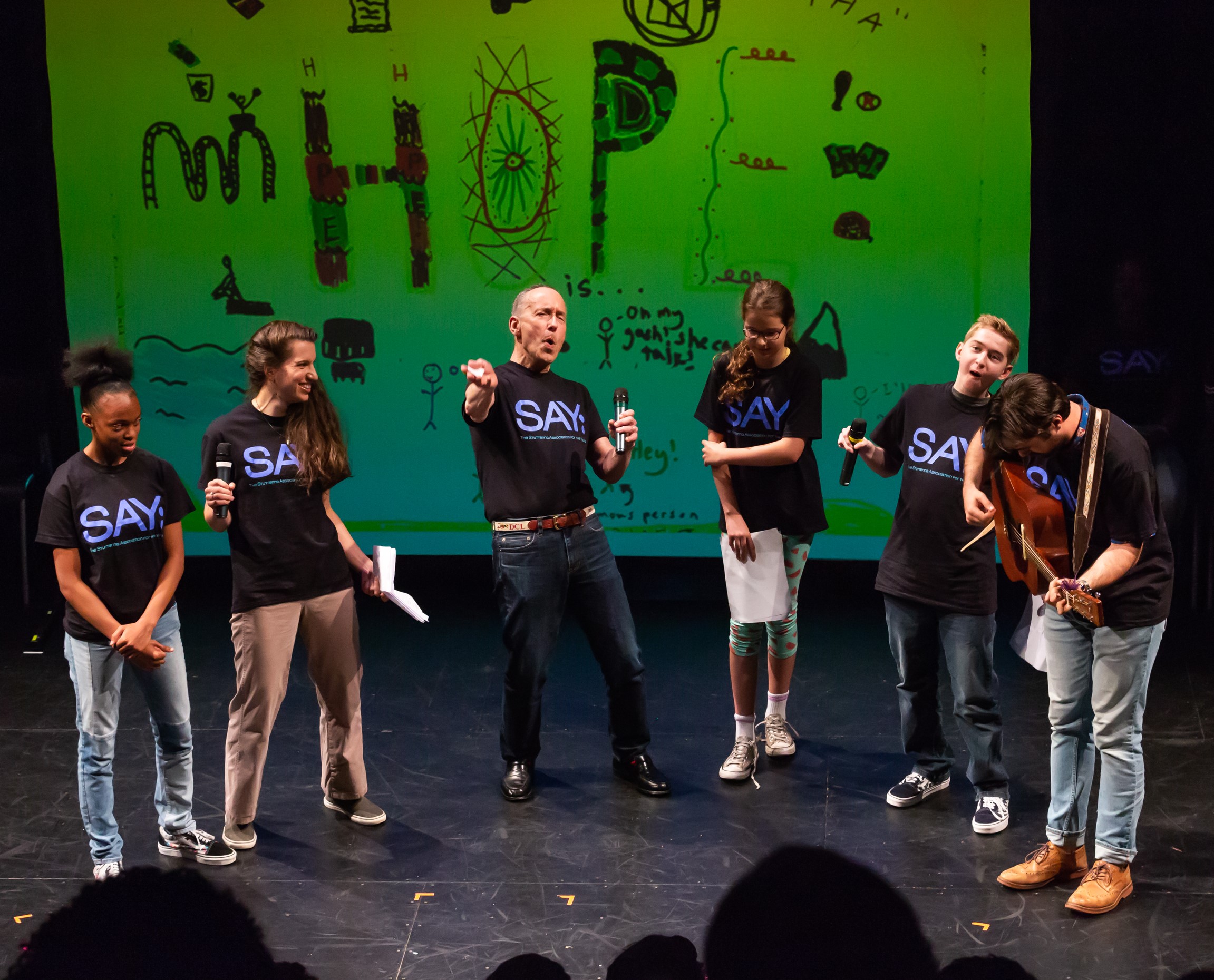 Questions About Confident Voices?
Our Programming Staff is happy to help:
Kate Detrick – Director of Confident Voices: 917-697-7183, Kate@SAY.org

A

idan Sank – Artistic Director of Confident Voices: 917-697-7183, Aidan@SAY.org
You may also submit an inquiry or download a brochure. 
Additional Programming:
SAY offers comprehensive programming options to kids & teens who stutter (ages 8-18), both locally in NYC and nationally.
Visit the Confident Voices Blog to follow the fun! It's THE place to go for frequent updates, photos & stories.