In order to protect the health and safety of our staff, the amazing young people we serve, and our fellow human beings, SAY has temporarily suspended in-person programming. Our dedicated staff is already reimagining Confident Voices programming so it may be offered remotely.
We are thrilled to announce that The Mentor Project is NOT CANCELED! Programming will happen in an exciting new way and we can't wait to share it with you, so REGISTER TODAY!
And never forget, SAY is here! This unprecedented time of uncertainty calls for MORE support, connection, and love, and SAY remains 100% committed to staying present for you. We will not now, nor will we ever stop providing the invaluable programming, encouragement, and friendship that our SAY community relies on.
The Mentor Project 
The Mentor Project is a 9-week collaborative arts program that matches adults who stutter – including SAY alumni – with small groups of kids to create 5-minute performance pieces of their choosing.  Anything from raps, songs, poems, dance pieces, magic shows, movie trailers, visual art pieces, the sky is the limit!

Why Mentoring?  Working together allows for mutual inspiration, especially when it affords young people the opportunity to work with adults who stutter, who have triumphed over similar struggles. 
Registration is STILL OPEN and programming still begins on April 21, 2020. We are in the process of redesigning the performances, so stay tuned for ongoing updates via SAY.org and our social media platforms.
And, as always, feel free to contact SAY's Confident Voices team to verify schedules:
Kate Detrick – Director of Confident Voices: 917-697-7183, Kate@SAY.org

A

idan Sank – Artistic Director of Confident Voices: 917-697-7183, Aidan@SAY.org
Stay healthy and safe!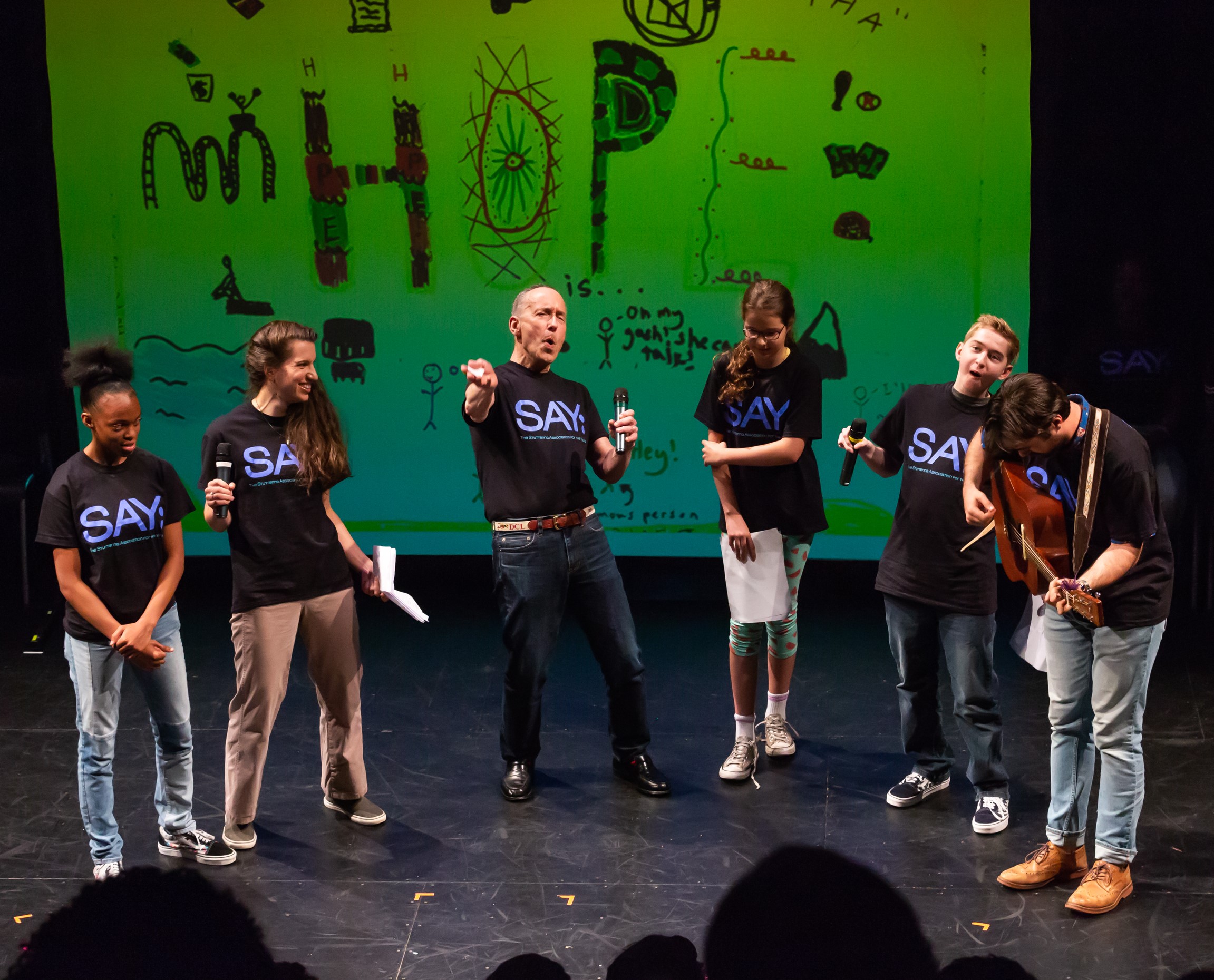 Additional Programming:
SAY offers comprehensive programming options to kids & teens who stutter (ages 8-18), both locally in NYC and nationally.
You may also submit an inquiry or download a brochure.
Visit the Confident Voices Blog to follow the fun! It's THE place to go for frequent updates, photos & stories.