Taro Alexander, renowned actor, director, teacher, and person who stutters, founded the organization in 2001 to provide a truly unique and accepting environment for children who stutter.
A Brief History Of Our Programs:
SAY's innovative year-round programming began with an emphasis on the performing arts, with children writing their own plays and songs that they later performed for parents, friends, and the public. Songwriting, poetry, and spoken word have been added, enabling children and teens who stutter to express themselves in more and more ways! Over time, these programs have expanded into a broad range of confidence-building activities.
The Listen benefit album, a collection of 15 original songs, was written by young people who stutter and was recorded by iconic artists across all musical genres including Carly Simon, Daryl Hall & John Oates, John Forté, Duncan Sheik, Mandy Patinkin, and more.

Camp SAY was launched in 2008 to provide a highly immersive summer camp experience for young people who stutter, as well as their young family members and friends. Young people can meet other children who stutter from across the U.S. and beyond. 

SAY's Speech Therapy program was established under the leadership of a licensed Speech-Language Pathologist who is uniquely experienced in working with children who stutter.

Camp SAY: Across the USA began in 2018, in an effort to bring our programs to more young people who stutter in cities across the country, like Memphis, Houston, Los Angeles, and more.

SAY: DC launched in our nation's capital in 2019, bringing a new year-round program to kids and teens who stutter in the Washington, DC area.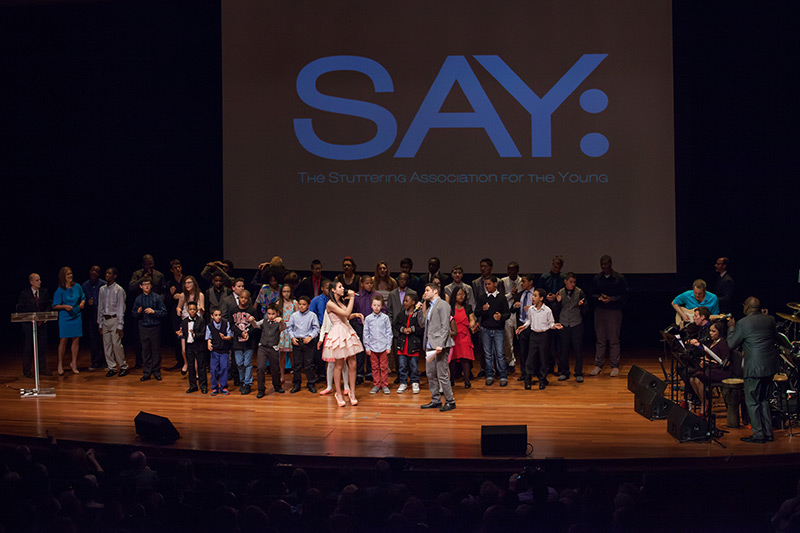 Since our founding, our leadership team has presented important information about stuttering in a broad range of settings across the world, including educational institutions such as Columbia University, NYU, CUNY and more; New York City Department of Education Staff Development Days; conferences & conventions including the National Stuttering Association Conferences across the US; American Speech-Language-Hearing Association Convention; Friends Conferences (from New Jersey to San Francisco); the International Fluency Association World Congress in Montreal & Dublin, and VSA Arts in Washington, D.C.
SAY's innovative year-round programming began with an emphasis on the performing arts and expanded to a broad range of confidence building activities.
We have received several prestigious awards including the 2017 National Arts and Humanities Youth Program Award, the Charles Van Riper Award from the National Council on Communicative Disorders (awarded at the Kennedy Center), and a Special Citation from the NY State Speech-Language Hearing Association.
Our organization is featured frequently in the press including: The Meredith Vieira Show, ABC News, CBS Sunday Morning, NBC Nightly News with Brian Williams, TODAY, 20/20, The New York Times, New York Magazine, Chicago Tribune, The Washington Post and many more.
Please visit our press area to see these exciting features and more.