Join the SAY Team!!!
Now through August 1, 2021, we are asking YOU to TEAM UP WITH SAY and join the SAY Community Fundraiser to raise crucial funds that will directly support our programming for children who stutter. With additional safety precautions, travel expenses, and so many of our SAY families facing unprecedented hardships during these trying times, the gift of your love and support is vital.
It is SO EASY to make a difference right NOW! CLICK BELOW to visit TeamSAY.org and follow the simple instructions below to create your own Fundraising Page:
1) Start by clicking the orange 'Start fundraising' button and create a login.
2) Customize your campaign URL and click the blue 'Create your page' button and you've done it! You've built your own Fundraising Page!!!
3) Have fun personalizing your page! Add a cover photo, set your fundraising goal, and tell your story about why supporting SAY is important to you and to so many kids & teens who stutter. You can update your Fundraising Page at any time!
Now you're ready to JOIN THE SAY TEAM by sharing your Fundraising Page with friends, family, colleagues, and anyone you can inspire to support your campaign! Click 'Share' to send your campaign via email and post it to your social media pages. You can even text your unique URL! All donations will add to your campaign tally.
After an extraordinary year, SAY kids need some extra help…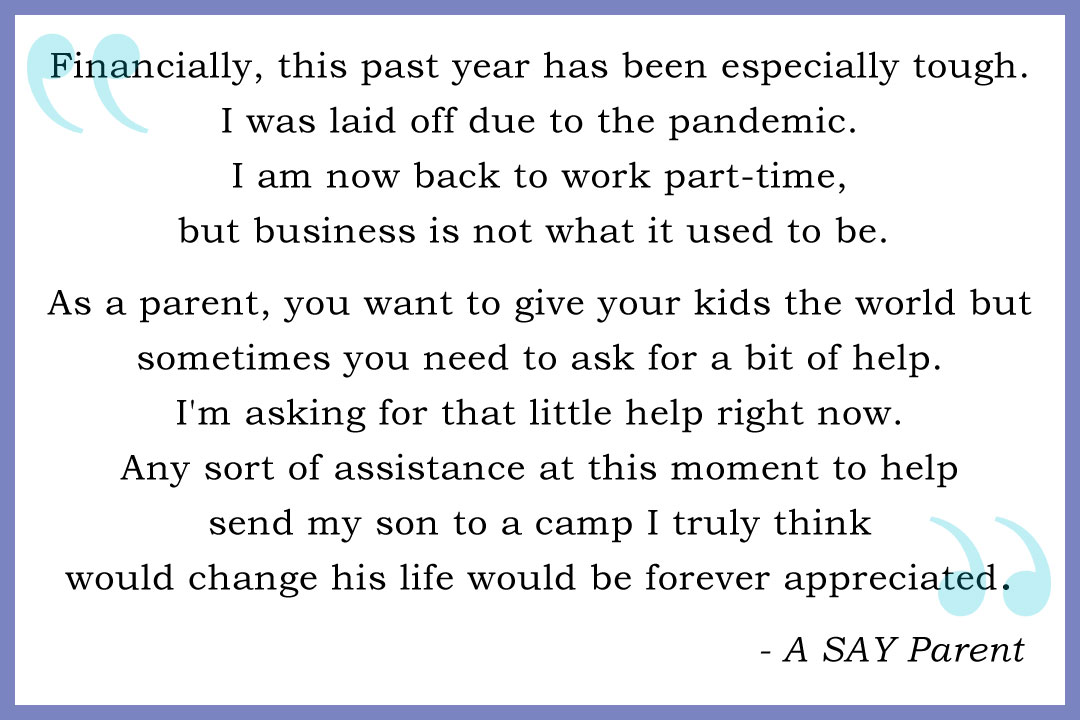 Your donation goes directly to help a child who stutters!
SAY is working overtime to bounce back to full capacity this summer, but like so many of our families, we need some extra help.
In addition to our need for additional safety measures, the vast majority of SAY families need more support this year.
If you are able, we are asking you to give a little extra to help the children whose families faced great hardship this last year.
Our Mission
SAY: The Stuttering Association for the Young is a national 501(c)(3) non-profit organization that provides support, advocacy, and life-changing experiences for young people who stutter, ages 3-18. Since 2001, SAY has offered comprehensive and innovative programs that address the physical, social, and emotional impacts of stuttering. Through summer camp, regional day camps, speech therapy, and creative arts programming, SAY builds a community of acceptance, friendship, and encouragement where young people who stutter can develop the confidence and communication skills they need to thrive.
To date, no child has ever been turned away due to a family's inability to pay. Your support helps ensure that important and essential legacy.
You Make the Difference
SAY is only able to maintain this community for young people who stutter because supporters like you decide to make it a priority. The belief that children who stutter are valuable and deserve to be heard should not be a radical idea. But all too often, it is. These children have unlimited potential to live their dreams if they can learn to love themselves. With your help, they will.
Your support has a huge impact on an organization of our size. You make it possible. Please help us show children who stutter that their voices truly matter.
Click Below to JOIN TEAM SAY by creating your own Fundraising Page!