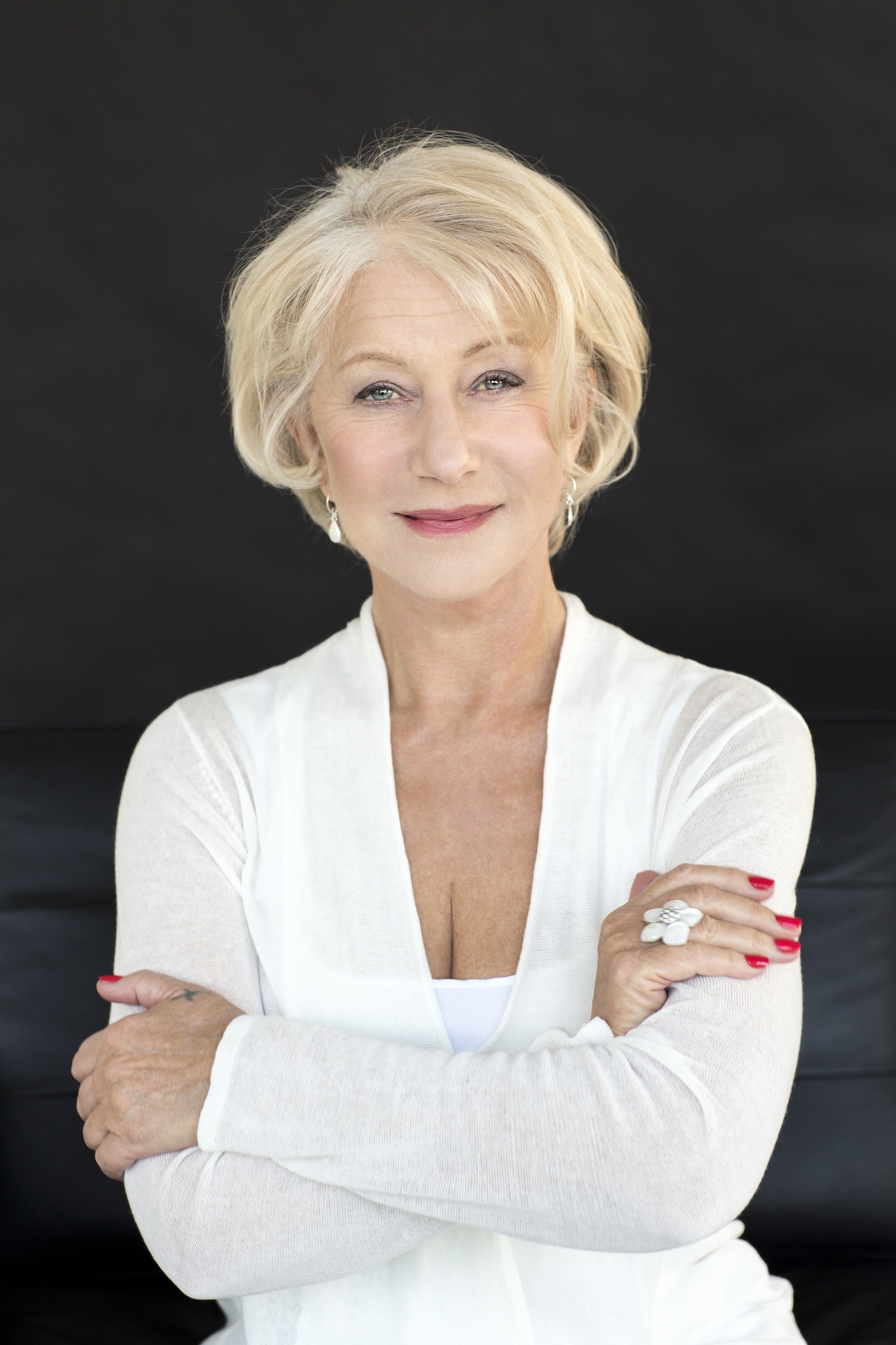 HELEN MIRREN has won international recognition for her work on stage, screen and television. For her portrayal of Queen Elizabeth II in 2006 of "The Queen," she received an Academy Award®, Golden Globe, Screen Actors Guild (SAG) Award®, and BAFTA Award for Best Actress. She was also named Best Actress by virtually every critic's organization from Los Angeles to London. In 2014 she was honored with the BAFTA Fellowship for her outstanding career in film.
Mirren will next be seen in "Trumbo," portraying Hedda Hopper, for which she was nominated for a Golden Globe and SAG award for best supporting actress and "Eye in the Sky," portraying an army Colonel in a thriller set in the world of drone warfare. Her next film project will be "Collateral Beauty" with Eddie Murphy, which is already in production.
On screen, Mirren was most recently seen in The Weinstein's Company's "Woman in Gold" for which she was nominated for a Golden Globe.
Her 2013 work includes the biopic "Phil Spector," for which she won a SAG award for her performance and was nominated for an Emmy and a Golden Globe, in addition to Walt Disney Studios Motion Pictures' "Monster's University" in which she voiced the character of 'Dean Hardscrabble' and "The Hundred-Foot Journey" directed by Lasse Hallstrom and produced by Stephen Spielberg and Oprah Winfrey,
Other recent work includes "RED 2" with Bruce Willis, John Malkovich and Anthony Hopkins, Fox Searchlight Pictures' "Hitchcock" for which she was nominated for a Golden Globe and a SAG award for her performance, John Madden-directed thriller "The Debt," where she plays a Mossad agent.
Mirren began her career in the role of Cleopatra at the National Youth Theatre.  She then joined the Royal Shakespeare Company, where she starred in such productions as "Troilus and Cressida" and "Macbeth."  In 1972, she joined renowned director Peter Brook's theatre company and toured the world.
Her film career began with Michael Powell's "Age of Consent," but her breakthrough film role came in 1980 in John Mackenzie's "The Long Good Friday."  Over the next 10 years, she starred in a wide range of acclaimed films, John Boorman's "Excalibur"; Neil Jordan's Irish thriller "Cal," for which she won the Best Actress Award at the Cannes Film Festival; "White Knights" where she met her husband the director Taylor Hackford; Peter Weir's "The Mosquito Coast" and Peter Greenaway's "The Cook, the Thief, His Wife and Her Lover".
Mirren earned her first Oscar® nomination for her portrayal of Queen Charlotte in Nicholas Hytner's "The Madness of King George," for which she also won Best Actress honors at the 1994 Cannes Film Festival.  Her second Oscar® nomination came for her work in Robert Altman's 2001 film "Gosford Park."  Her performance as the housekeeper also brought her Golden Globe and BAFTA nominations, several critics groups' awards, and dual SAG Awards®, one for Best Supporting Actress and a second as part of the ensemble cast. Most recently, Mirren earned both Oscar® and Golden Globe nominations for her performance in "The Last Station," playing Sofya Tolstoy.
Among her other film credits are Terry George's "Some Mother's Son," on which she also served as associate producer; "Calendar Girls"; The Clearing"; "Shadowboxer"; "State of Play"; "The Tempest"; and "Brighton Rock".
On television, Mirren starred in the award-winning series "Prime Suspect" as Detective Chief Inspector Jane Tennison.  She had earned an Emmy Award and three BAFTA Awards, as well as numerous award nominations, for her role in early installments of the "Prime Suspect" series.  She won another Emmy Award and earned a Golden Globe nomination when she reprised the role of Detective Jane Tennison in 2006's "Prime Suspect 7: The Final Act," the last installment in the PBS series. Most recently Mirren was also honored for her performance as Queen Elizabeth I in the HBO miniseries "Elizabeth I," winning an Emmy Award, a Golden Globe and a SAG Award®.
Her long list of television credits also includes "Losing Chase,"; "The Passion of Ayn Rand,"; "Door to Door," and "The Roman Spring of Mrs. Stone," earning Golden Globe, Emmy and SAG Award® nominations and awards.
Mirren has also worked extensively in the theatre.  Most recently, Mirren was on the Broadway stage, transferred from London reprising her role as Queen Elizabeth II in The Audience, a new play by Peter Morgan, directed by Stephen Daldry, for which she won the 2015 Tony Award for Best Performance by an Actress in a Leading Role in a Play, following her Olivier Award from the London run
She also received an Olivier Award nomination for Best Actress for her performance in "Mourning Becomes Electra" at London's National Theatre.  In 2009, Mirren returned to the National Theatre to star in the title role in "Phèdre," directed by Sir Nicholas Hytner.
Helen Mirren became a Dame of the British Empire in 2003.
Photo credit:  Trevor Leighton
I'm thrilled to host this exciting gala with my friend Kelli O'Hara, and am honored to take the stage with the inspiring children of SAY.